Everyone remembers hearing "with Apple goes the market."
Well any savy investor knows that correlations change. The game changes, no matter what business you are in. The smart investor, the good businessman knows what the next play is. The game has officially changed and Apple will make new correlations. It will likely have an inverse relationship to the market (refer to fly's post a la noche: How Does the $SPY Perform in June?)
In a few days Apple will be launching its rebooted line of Macs and an updated interface.
Will it set itself up to change the game?
My anticipation is that Tim Cook is done "cooking" himself over the roaring flame. It is time he wowed us. This moment is the make or break for Apple and contrary to my normal beliefs, they shall impress. Tim's job is on the line so for his sake he must impress.
The market and the consumer have been disappointed time again with the recent line of Apple products. Read any tech blog about the most recent iPhone or the retina display. Yeah they were cool but they did not make you say whoaaaaa. We are entering that phase. We are going to be wowed again.
If not Apple's heyday is done. Tech is exponential. Apple will continue to push the limits or they will  be pushed aside.
There is no need to run out tomorrow and buy the stock. Let us see how the announcement goes. If we are in awe then we will likely continued to be amazed as we come to the iPhone and iPad updates. If WWDC goes as planned by Mr. Cook and his staff, we will be impressed. If we are impressed the stock will continue to climb into the summer as we near the next update cycle.
You want verification? You want a footing to stand on? Look at Apple historically: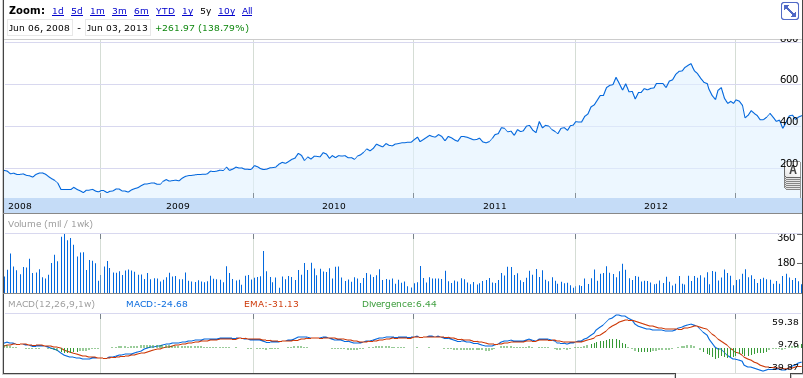 When Apple gets the hype momentum behind it, it runs. Apple will get its hype back or it will spend billions trying.