If you have been keeping an eye on Coach as of late, you will noticed that it has been taken to the cleaners (obviously a fool's errand being that the handbags were nothing but clean). Over the past few months Coach has been down over 25%. In lieu of throwing up a bearish flag  this peace of anecdotal evidence only suggests a Christmas play that will bring your portfolio ample amounts of cheer.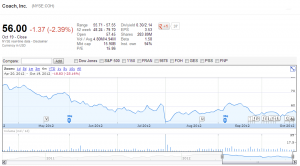 The holiday season makes or breaks a retail company for the year. Either they fill the store and have lines down the block, or the patrons of the malls choose to spend their well-earned dollars elsewhere. Over the past few years the economic environment has been more and more challenging. Well guess who has repeatedly excelled over that time span? Growing sales, profits, and stores in operation, Coach has held up well in a class of merchandise that has repeatedly been questionable. This aspirational luxury should have seen a squeeze due to the worsening conditions of the middle class, instead it has powered through growing its reach.
Currently the one major trial that faces Coach stems from Michael Kors. As the above video illustrated, the space where Coach has excelled has become more and more crowded. The pressure from competition stems from the fact that this space actually works. Places where customers are buying are hard to come by, so brands are flocking to this waterhole. Those in the middle class will always aspire to be more than they are, doing so through their purses (pun intended). Coach has built and expanded a business on this premise. Now everyone wants a piece of this empire. Though at the end of the day, Coach has successfully branded themselves as the quality handbag in the $300 to $500 range. Continually banking on their heritage, they will outperform and outlast new players in their space.
In the fashion industry branding remains everything, which has its pros and cons. Coach has made a name for itself since 1841. Michael Kors along with  the other brands in the space are not as established, nor as synonymous with handbags as the luxurious Coach. This middle to upper income consumer has been a battleground and will continue to be this holiday season. Luckily for Coach, its bread and butter is handbags, which these consumers continue to buy. Not only that but Coach has been growing it's accessory market share, pushing back at Kors. My faith remains comfortably sitting inside this classy Coach headed through the wild west of retail until these new brands really start to make inroads into Coach's main profit engine. The uniqueness of these new brands like Michael Kors drives the younger consumer in their direction, though uniqueness is merely synonym for fad. At the end of the day a quality brand with heritage and longevity will always outperform, especially in a growing market.
I don't always like bargain shopping, but look at the run Kors has had. Don't get me wrong, Kors repeatedly shows growth, but those that rise the highest are quickest to fall from grace. In this situation playing the underdog that excels in the same business seems like the right play. The key to successful stock picking is finding undervalued companies poised to be valued. As we enter into the holiday season, that company is Coach.
You are watching a master at work….