Retail remains a troubling sector, leaving many investors stumped when attempting to pick the best-in-breed company. The key to success in retail has always been to build a following that can not be shaken by economic conditions, by creating a cult like following of shoppers that refuse to take their money elsewhere. Cabelas undoubtedly has a set of hardcore followers, both online and in the retail store setting. By being the premiere outdoor outfitter they have found a unique niche and by continually providing for their specialized set of followers, they have seen enormous success.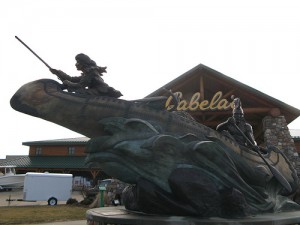 What I love most about Cabela's is unquestionably their room for growth. Investors do not have access to many retailers that have as much room to grow as Cabela's. Compare them to a giant like Dick's Sporting Goods, though these two entities serve somewhat of a different populous, the store totals differ substantially. For example Dick's Sporting Goods have almost 500 stores while Cabela's boasts almost 40. From my point of view this can be taken as a plus with huge potential for growth. Though Dick's serves a wider range of sporting enthusiast Cabela's has the distinctive retail offerings that Dick's just cannot compete with. Therefore, both these entities can exist in the same market, suggesting that Cabela's could grow their reach by hundreds of stores.
The way in which Cabela's played the recent economic turmoil was by the playbook. When times were tough they adjusted both margins and ad revenues accordingly, looking after their core consumer. As times improve, which they have as of late, they are adjusting margins accordingly and spending more on advertisements to bring in new customers. The financial arm of this retail giant was once a burden, but as we see the populace better manage their credit card debt, this element of the business will only set to strengthen.
With Cabela's quality offering of outdoor goods, demand for their products, and room to go, this may just be one of the better retail plays for the future.
What is Sunday Funday?
Photo by RiverRatt3