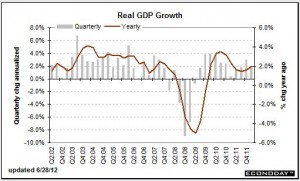 Taking a look first at GDP, we see the same weakness as was at first anticipated. The second quarter does not suggest much improvement either. Being one of the huge barometers for our economy we can only hope that other macro news outweighs the negativity surrounding the GDP.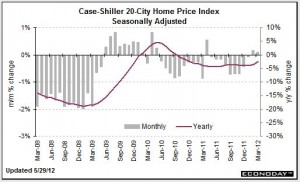 The housing situation remains inconsistent overall. We have had two back to back gains in the pricing index, though this is a meager movement after an overall horrible few years. Early last year we had a head fake that had the market tricked into thinking things were substantially better. Hopefully if we continue this positive trend we may see a more stable housing market which will bode well for the financial markets and our 'Merica economy. Pending home sales also dropped dramatically and were in harsh negative territory, though at the same time new home sales were looking chipper. These pending home sales may be a blip on the radar but should be something to definitely keep an eye on.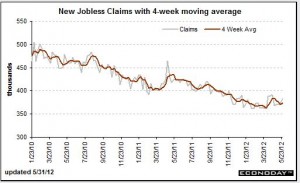 When it comes to jobs, things are once again hazy. We seemed to be moving in good territory for quite some time, though it seems we may look to test that key 400k number once again. Some of the upward movement has been and can be attributed to seasonality. Though, at this stage of the recovery the market and myself expects a much better number and if we keep moving in the direction of 400k I will be squirming in my trading chair. Keep an eye out for the big number Friday it will answer many of my questions concerning our jobs situation.
Since we live in such a consumer based society, we cannot forget the importance of how our consumers are currently feeling. The consumer has had a change of heart. Initially these indexes could be seen as a support for potential spending in the coming months. The public sees the news out of Europe and questions their job situation and current spending habits. When looking at the consumers we do see a continued plus, the price of oil. With lower fuel cost we hope to see increased spending over the summer vacation months.
What is Macrohead Monthly?