Who is to say that poker cannot revolutionize Facebook's profits? With all the talk of Wall Street being unhappy with Facebook's mobile monetization, no one has thought for a moment that maybe mobile monetization isn't even the key. Great companies are built around many revenue sources, so that is why I see Facebook taking a multifold approach to revenues. One could only imagine how popular gambling could be once again, if it involved real money, and your Facebook friends. Those tech all stars that sit upon their billions out in silicone valley are much smarter than we ever thought. The next big thing is unquestionably online gambling, with or without the United States. Who is the global company set up to own this space? Why no other than the social media giant, Facebook.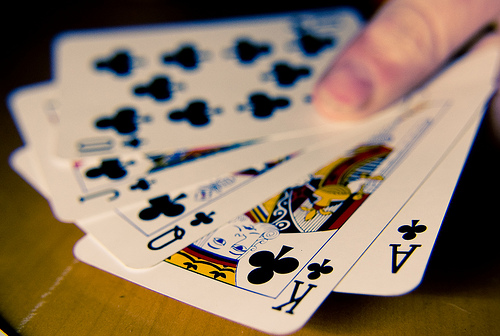 As investors and traders we sit around all day, thinking, dreaming, trying to figure out what is next. While reading news and more news and more spewing of so called analyst, I pieced two and two together. Facebook will be the king, queen, and full fledged court of online Gambling. Yes, Gambling has been done online before. Yes, it was very profitable for those involved, though many had to give that money back to the U.S. government (suckers). The reality presents itself as this: if online gambling is legalized, Facebook is set to make a killing.
Fulora, leader of Facebook's general monetization product developments recently said, "we hope to simplify the purchase experience, give you more flexibility and make it easier to reach a global audience of Facebook users who want a way to pay for you apps and games in their local currency." I don't know how you read that, but someone with half a brain can see there is much more than meets the eye. Why would Facebook have such a desire to move from their credit system to one focused solely on cash from all nations around the world?
Gambling
The topic of gambling has consumed those that are bullish on Zynga. Now I believe it is time for Facebook believers to get behind the train on online gambling. In my opinion the adult version of gaming is gambling. As we have seen the growth in the older age demographic on Facebook it is fairly obvious that a move towards online gambling will capture the attention of many of its users. Gambling has long been considered a social activity and what better way to gamble and be social then via Facebook.
With the recent news out of Facebook changing their purchasing system to focus on local currency and the success as of late of Zynga Poker, the future seems to be lining up nicely. We have all read the news stories and heard the tales of the profits made from online gambling. Most of these success stories were not done with the power and knowledge of a company like Facebook, nor on the massive level of Facebook. Social and gambling are on the brink of colliding and Facebook has aligned itself perfectly for success.
Many of you will attempt to say that facebook is a family oriented company, they would never delve into gambling. Though the truth of the matter is that being a family oriented company means offering something for every memeber of the family. Facebook's move to allow Zynga Poker means that Facebook sees the future already. Zuck is smart enough to know that daddy may love gambling, and that his 15 year old son should not have access to it. The prowess of Facebook allows for an access to a large market of gamblers (and potential gamblers) and the capacity to maintain a family atmosphere.
Yes, I think this bodes well for Zynga. Though overall the real winner here is Facebook, being that they have access to the many users and information about these respective individuals.
Photo by Melissa Gray