While watching the Basketball games, a good sports fan is expected to have a chicken wing in one hand and an ice cold beer in the other. Who better to represent those necessities than Molson Coors and Buffalo Wild Wings. Sports is a key industry for both adult beverage companies and sports bars, and a lot of money is made during the March mayhem. In the theme of March madness lets put two top scorers together and see who comes out ahead.
Let's take a look at how these companies have performed over the past year to see who takes the lead in the opening half.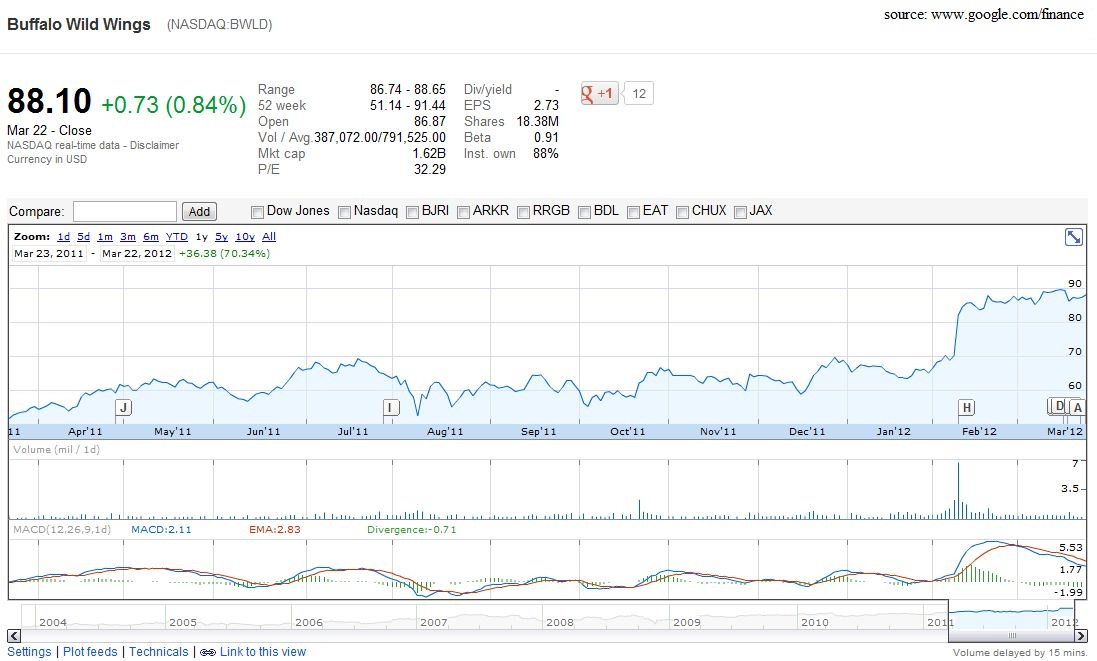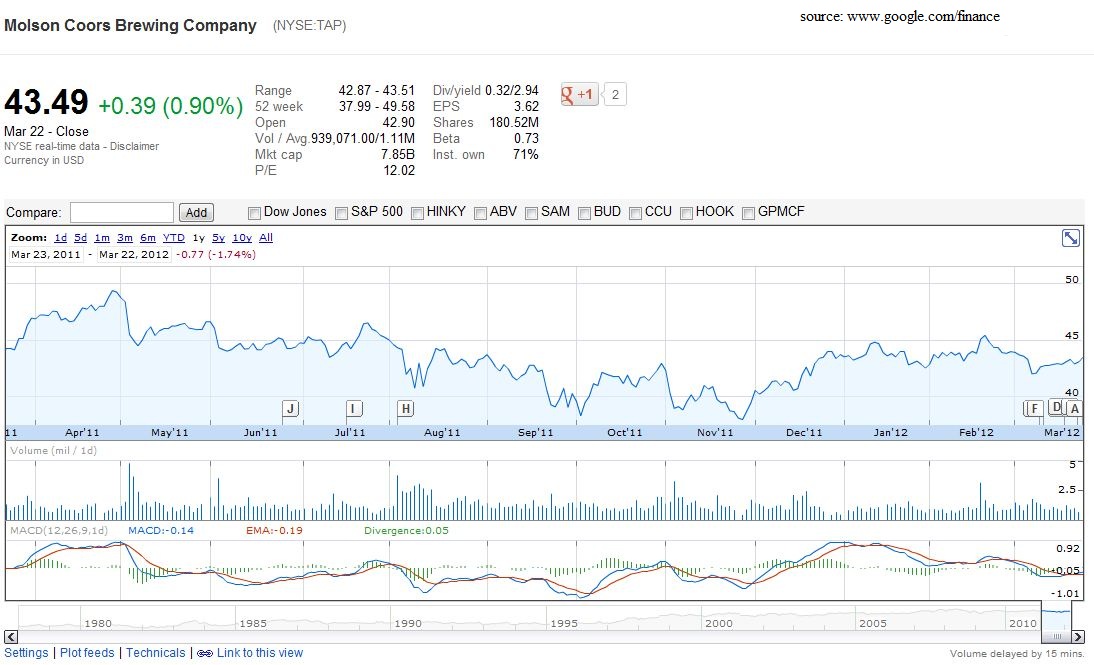 Molson Coors recently announced the launching of its iced T Coors Light. The CEO of the company suggests that this hybrid drink is exactly what the consumers want. They want to take their two favorite beverages and combine them. If it were this easy Coca-Cola would have a never ending supply of new drinks. There are a few issues with this so called growth engine. First off the sweet tea alcohol arena is a extremely crowded space. Second, those most likely to buy the hybrid product are in the demographics that would prefer sweet tea (instead of iced tea). This growth engine turns out to be more of a big question for investors rather then a growth engine.As obvious through the above images, Buffalo wild wings seems to have outperformed Molson Coors and the broader market over the past year. What may be more significant to investors is the strong uptrend seen over the last year in BWLD. It looks as though the wings have outperformed the beer over the past year, but that may just mean Molson Coors is preparing to pop. We'll take a look at that come the second half (below)
Taking a quick look at Buffalo Wild Winds, they have something that many restaurants before them have failed to grasp. BWLD has got the formula for success. This success can be seen through their numbers and in their stores. The Buffalo Wild Wings experience is a different sports bar experience. One cannot quite place their figure on what exactly makes them stand out, but whatever it is, myself and many other Americans can't stop spending money there. Nor is BWLD a trend by any sense, Americans have loved beer and wings in the past and will continue to do so into the future.
Final Score
There is no buzzer beater here. Buffalo Wild Wings comes out the strong leader. One cannot argue with their growth potential. There is just something about those BWLD that myself and many others just can't get enough off. They have figured out the formula for success and will continue to use it.