With all the wonderful news in the U.S. and abroad one could expect me to eat my previously bearish sentiments. Today I thought long and hard about eating my previous sentiments and adding some whip cream and cherry to the bearish sundae. Then as I was scanning my watch list, I came across CAT.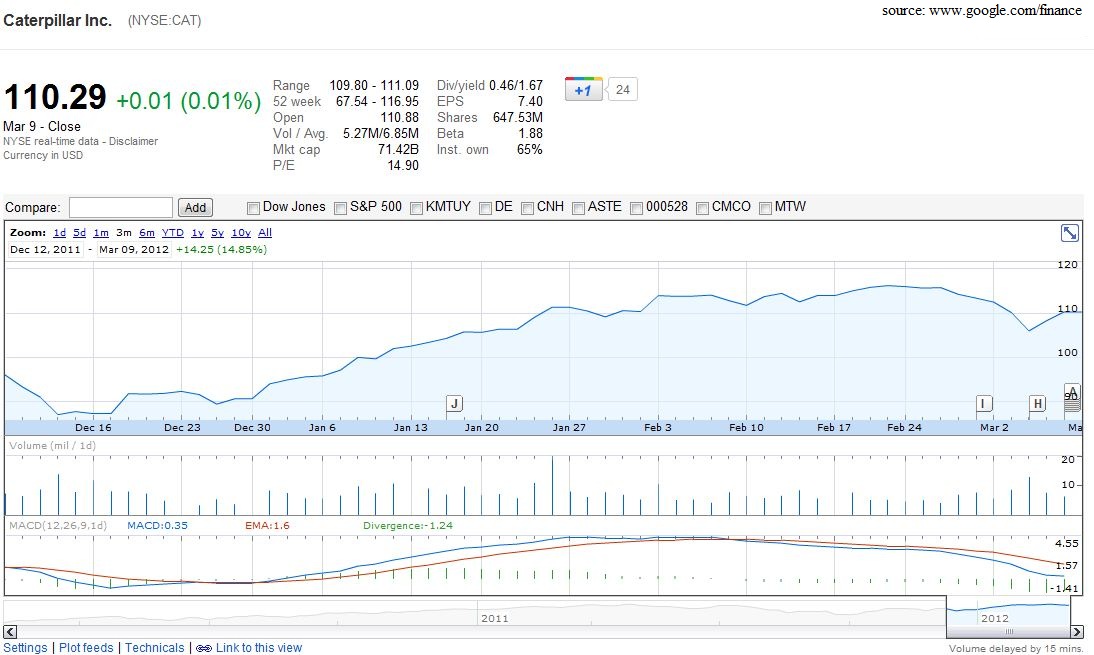 Over the past year and over the past few months in particular CAT has had quite a run. Over the past week we saw a deep sell off in equities followed by a complete reversal and a push higher. Where was CAT in all of this? The barometer of global growth has been hanging in the background. This does not seem to add up and lends me to suggest the future worry of financial markets: shrinking of global growth. We know that Europe's growth will likely lack or in Greece's case contract as we look into the future; That is all backed into the cake. What strikes renewed fear in my heart is the global growth story. One that suggests that those around the globe are about to hop on the recessionary bandwagon. The one pioneered by the U.S. in 2008 and revisited recently by the European Union.
As we excel higher on renewed optimism of the better than worse data out of the United States, one must remember that in the new day in age we are linked to those around the globe. The inter connectivity that encompasses the world today will hurt your portfolio as global growth goes. We may see a possible weakening of the BRIC and China in the coming months.  With a global slowdown the U.S. will likely follow, and that is what Goldman's suggests with its cut in GDP estimates this morning from 2.0% to 1.8%.